You are on the right place to find paving professionals to accomplish paving projects for yyour home or office. Browse our Driveway, Paving Contractors category inside Construction and Contractors catalog and select specilaists in Boston area to install a paved driveway, to design and complete patios, walks, steps, paving parking and any other projects involving planning an asphalt driveway. Companies from our extended list will do the quality job on time and for a very competitive price.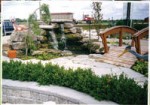 V & F Masonry Contractor Boston
V & F Boston Masonry Contractor is located in Newton MA: between Watertown, Brookline, Wellesley, Waltham and Needham. Let us complete all your projects to high standards and to established dates as to make your house look more enthralling. We can build or redesign your patio, flagstone walkway, stone wall, and foundation repair. We also install sump pumps and do basement waterproofing.