Start your search for architecture-related resources, businesses and services from our Architecture category of our Construction and Contractors business directory. We provide information about contractors and contracting companies involved in architecture and construction process and services in Chelmsford, MA and Boston area.
In the Architecture directory you would be able to find a wide variety of resources in the fields of architecture and construction, a large collection of architecture related links, listings of local architects and designers, engineers, contractors and suppliers, architectural magazines for architects and designers including last industry news, information on architecture, building and construction, home design, planning, products, building technologies and more.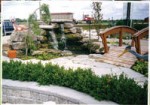 V & F Masonry Contractor Boston
V & F Boston Masonry Contractor is located in Newton MA: between Watertown, Brookline, Wellesley, Waltham and Needham. Let us complete all your projects to high standards and to established dates as to make your house look more enthralling. We can build or redesign your patio, flagstone walkway, stone wall, and foundation repair. We also install sump pumps and do basement waterproofing.