Everything you need to plan your wedding you will get using our Bridal Shop catalog. You would be able to look through online bridal magazines and wedding web sites, attend internet bridal shows to familiarize yourself with latest designer trends, keep pictures of the designs you like. From the type, size and location of your reception determine your budgets and styles of wedding gowns you prefer. Handmade wedding bouquets, nosegays, pillows, baskets, guest books, albums, reception decor and more using elegant ribbons, silk, satin organza, velvet, lace and pearls – all these weddings attributes you will find together with us.
Browse our comprehensive directory and find the best places in Taunton,MA and Boston area for bridal shops,flower shops, reception halls, invitation cards,hair salons to make your wedding day unforgettable.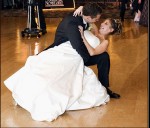 Wedding Dance Boston
Wedding Dance Boston is the largest ballroom dance studio in the United States. Emil and Ruta Ioukhnikov, formerly from Lithuania, opened the studio in 2001. During their teaching career in Lithuania, Israel, and now the United States, they brought up several generations of professional and social dancers and enthusiasts. They have created shows and wedding dances for hundreds of people.