To make your kitchen an ideal one, you should study our Major Appliances directory of the Kitchen & Housewares category in the Home and Garden Stores catalog.
What do we mean under major? All the things you cannot do without or which ease your life and cooking greatly: fridges, freezers, stoves, ovens, dishwashers, washers, dryers. You can read specifications, reviews as well as compare the units specifications, read consumers reviews, check and find best prices or order online major appliances of your choice. A list of stores in Ipswich, MA and Boston area providing a full range of major appliances is carefully checked and regularly updated. You can consult a specialist if you have any questions about diversity of the things offered.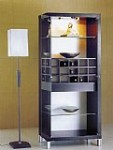 World furniture outlet - Contemporary Furniture
World furniture outlet in Brighton, Massachusetts, serving Greater Boston, is a market laboratory, where designers test the marketability of different lines of unique, modern furniture. World furniture outlet customers get the rare opportunity to purchase many one-of-a-kind manufacturers' samples, sold to World furniture outlet at prices well below regular retail. That is why many shoppers visit World furniture outlet on a regular basis, searching for that unique, design that simply cannot be found anywhere else.
888-614-5081