Our well expanded Flowers Housewarming directory of the Flowers category inside the Gifts, Flowers and Jewelry catalog is essential if you do not know what to buy for relatives or friends housewarming party. Adorn the new house you are invited to with fresh flowers, vases, bouquets, arrangements, compositions, balloons and decorative elements are plentiful.
A range of flowers provided is astonishing - for every taste and budget, there is something to choose from. Traditional or exotic, austere or bright - everything is found on the sites from our catalogue. You can order online or choose one of the flowers stores listed in our categroy. The addresses of the shops,best florists in Boston, MA and Boston area offering a great variety of bouquets are provided as well. You can also contact with a florist available for a consultation and further help in choosing suitable flowers and making a unique bouquet specially for this occasion that can be delivered right on time.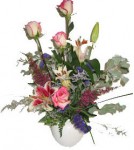 Russian Flora
RussianFlora is the a full-service florist serving Internet customers in countries of former Soviet Union and Baltic countries.RussianFlora offers flower & gift delivery to your friends and loved ones in Russia, Ukraine or any other location in CIS or around the World, just go online or give us a call and select the best flower basket, gift for a very reasonable price to be delivered!