Our Custom Decorative Doors and Windows online directory is the best source of information on services, business whose specialty is to decorate your home or office providing the best in the industry custom decorative doors, glass doors, stained glass windows contractors. Find Interior design ideas, craftsman and classic style doors, custom crafted doors, extensive selection of decorative entry doors, solid wood custom doors and windows, installation and replacement services in Boston area.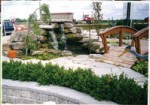 V & F Masonry Contractor Boston
V & F Boston Masonry Contractor is located in Newton MA: between Watertown, Brookline, Wellesley, Waltham and Needham. Let us complete all your projects to high standards and to established dates as to make your house look more enthralling. We can build or redesign your patio, flagstone walkway, stone wall, and foundation repair. We also install sump pumps and do basement waterproofing.