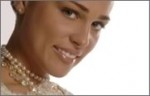 Anemone Makeup

Makeup artist and hair stylist, Ann Marie Laurendeau and all Anemone professional makeup and hairstylists are booked on a first-come basis and are available to travel to your location throughout Greater Boston, New England and beyond.
A compliment we frequently receive from our clients is how natural their makeup looks and feels and that it lasted throughout the entire wedding. We achieve these amazing results by using our own line of high-quality makeup products together with the latest styling and application techniques. We now even offer airbrushing! Anemone makeup artists are highly experienced working with all skin types and are especially talented working with a variety of skin color tones. We are proud of the fact that we have assisted countless brides achieve a memorable wedding day and look forward to giving you the look you want on your wedding day.
Pre-Wedding Makeup Trial Appointments
Our wedding makeup is specially designed to reflect each bride's individuality based on her skin tone, facial features and personal style. We welcome you to bring along your favorite magazine photographs for ideas. If you are uncertain about how you want your wedding makeup, we are more than happy to offer our expert advice. We also offer makeup lessons for brides, eyebrow waxing and false eyelashes as well as makeup trial appointments for mother-of-the-bride and bridesmaids.
On-Location Wedding Day Makeup
We take the stress out of your wedding day by bringing the resources of a professional beauty salon to you. We are happy to offer our services according to your wedding day schedule and will have you ready when your photographer arrives. We are available 24/7 to travel to your home, hotel, or reception site to provide hair and makeup services to you, your bridal party, family members, even your friends. We can accommodate as many makeup appointments and/or wedding hairstyles as you request in advance and are highly experienced with working with large wedding parties. We also give you the option of hiring more than one stylist at your location.
Hairstyling
Beautifully styled hair is essential for anyone going in front of a camera or live audience for a photo shoot, televised appearance, stage performance, or media event.
Ann Marie is a skilled hairstylist in her own right specializing in hair styling and design of a variety of intricate styles such as her talent with working with hairpieces and elegant bridal up-dos. Additionally, Ann Marie offers many other specialized hair styling services that are not always available at a local salon such as wig designing, hair extensions, braids, retro looks and classic period era hairstyles such as: the 20's, 30's and 40's pre-and post war looks, thru the disco and big hair-80's, through the current styles of today.
Contact us at 781-721-0083