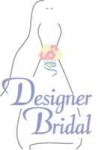 Designer Bridal


After working in many "traditional bridal shops," we decided to open a bridal shop a bit more unique. With that we compiled the best ideas and opened Designer Bridal: the bridal shop that concentrates directly on the bride.
Our gowns are sold right off the rack. Rarely do we get duplicates. We go through great lengths to buy our gowns from our network of retailers and designers and we pass the savings on to you.
Our specialty shop offers new wedding gowns from the finest names in bridal merchandise. We purchase from New York's most exclusive designers, as well as some European imports and we find all the best deals. This is the reason our brides get their gowns from us at 40%-80% off original retail prices.
Wedding Invitations
Designer Bridal offers a wide variety of wedding invitations to our brides at discounted prices. We have many styles to choose from and delivery takes only a few weeks.
Headpieces
Designer Bridal offers a large selection of headpieces, including tiaras, headbands, veils, and more, right in our store! We will assist you in selecting the perfect headpiece to complement your dress. We often offer specials on headpieces -- don't forget to check them out.
Seamstress
We offer quality alterations from our seamstress, who has many years of expertise with bridal parties. She can customize your wedding gown for you, be it that you may wish a neckline change, add a sleeve or change a chapel train into a sweep train if requested. She also makes custom bridal capes, jackets or any other type of covering to meet the bride's wishes. All at great prices.
Bridal Shoes
Been over all over Beantown looking for shoes and nothing to show for it? Visit Shoes to Dye For in Natick, offering the largest selection of bridal and evening shoes in the Greater Boston area. They carry bridal shoes in heels, flats, sandals, dyeables, wide widths, and hard-to-find sizes -- everything's their specialty!
Wedding Cakes
Montilio's has been a household name for over fifty years, creating beautiful cakes made from only the finest ingredients. We know that the finishing touch to any wedding is of course the wedding cake, and that is why we invite you to schedule your complimentary cake tasting at one of our 3 locations, Brockton, Quincy, or Waltham.
The Bridal Survival Club
Featured on Chronicle and Fox TV, this is your chance to "let your hair down" with other brides about your wedding. Whatever's on your mind – your family, his family, schedules, budgets, etiquette dilemmas – you can tap into the experience of people who have gone through what you are going through. Meetings are held monthly at an area hotel, run about two hours and are hosted by a professional facilitator. Two or three Boston Wedding Group experts are always on hand to answer "technical" questions, but never to sell. The cost is free.
Healthy Cookware/China
For our brides who are in the market for quality cookware and fine china, please consider Royal Prestige, as seen on the "Price is Right." Royal Prestige offers West Bend Healthy Cookware and Fine China, 24% Fine Lead Crystal, Tableware and Cutlery.
Contact us at
890-899-6666
781-235-6767