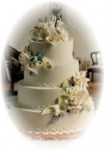 Dianne Rockwell - The Cake Lady

The choices are endless, imagine all the delicious possibilities!

From a simple, elegant wedding cake to a more elaborate, formal one I offer a custom designed creation that's certain to be a highlight of your special day.
I use only the finest ingredients, baked in small batches in my licensed home kitchen. My wedding cakes are made with fresh eggs and butter, pure vanilla, real cream, and are never frozen. It's important to me that your cake be remembered not only as a beautiful creation, but more importantly, as a delicious dessert.
Every aspect of your wedding cake will receive my personal attention in order to maintain a high standard of excellence and to guarantee your satisfaction. Each tier is exquisitely detailed with hand-crafted sugar flowers or fresh blossoms to complement the theme of your wedding. Your wedding cake will be designed, decorated and delivered personally by me.
Please note
: Like many cake designers, I accept a limited number of weddings per weekend, and popular months may fill up quickly. It's not unusual to reserve the date a year or more in advance- especially May through October.
Traditionally, the top tier of the wedding cake is saved for your first anniversary, and is not figured into the number of servings the cake will yield. A bakery box is provided for the top tier of your cake, along with packaging, freezing, and thawing instructions. So many clients write or call to say how delicious their anniversary cake was, a testimony that when properly packaged, your cake will be just as delicious as the day you first enjoyed it.
Cakes are available in round, square, oval, heart, hexagon, emerald or petal (scalloped) shapes. Imagine a style that incorporates more than one shape for a unique look.
Designs can be created to incorporate any detail of your wedding, from a nautical theme to the dainty edging that matches the lace on the bridal gown. Dozens of varieties of hand-crafted sugar flowers are available providing a custom design limited only by one's imagination.
Fresh flowers may be used on or between the tiers of any cake. They are part of your floral budget, but I will be happy to discuss with your florist the variety and quantity needed and arrange the floral pieces on the tiers. Fresh flower cake tops are created by the floral designer. Complimentary fresh greens in season, (i.e. leather leaf, tree fern, ruscis) are provided to make a lovely presentation around the base of the cake unless otherwise requested.
If the tiered cake design you've chosen does not provide enough servings for all of your guests, extra servings may be ordered at a reduced price to make up the balance of the servings needed- minimum 20 servings. This will be in the form of a frosted but not designed layer cake which will be served in addition to the tiered cake. The size of the slice is identical to that cut from the tiered cake, ensuring that all of your guests are served the same portion.
Separations between tiers (plate and pillar construction) are available at a fee of $20.00 per tier separation.
Delivery is free within 15 miles of Lancaster - certain restrictions may apply. Outside of the local area, there is a delivery fee of $1.00 per mile round trip as determined by Mapquest or Yahoo!Maps.
Contact us at
978-365-5092