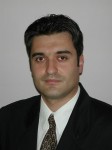 Samuel Melkonian
Boston Mortgage Solutions, LLC
When Service Matters
Mortgages for All!

Are you looking for a loan?

A mortgage is a big commitment and you need an experienced professional guiding you through the process, answering your questions so that you'll know with confidence that you made the right choice.
Have questions about your credit?
We can help you understand the effects of your past credit while showing you how to strengthen your present and future. Our network of mortgage wholesalers enables us to find you a lender who is most understanding of your situation. Have great credit? Our lenders reward your good credit with great rates.
Not sure if you can afford your dream house?

We have many flexible loan programs that can put you into your new home easier than you might expect. Is the down payment a stumbling block? Some of our programs not only don't require a down payment, but cover some of your closing costs as well.
What does our commitment to personal service mean to you?
It means that we focus on you and your goals. Anyone can line up a great looking rate for you but we take the time to show you all the other "gotchas" that can overshadow any teaser rate.
Most any situation.
Whether you are looking for a new mortgage, wanting to refinance or just interested in tapping into your current home equity, we can help you.
Our Management Team
Darren Franco, CEO
Darren Franco has more than 13 years experience in operational roles in a variety of functional areas. Included in his portfolio are Operations, Management, Sales, Strategic Marketing and Product Management.
After managing several properties for many years, Darren joined a brokerage firm to build a grass roots division for commercial lending. Shortly after that he served as the Sales Director for both the residential and commercial lending divisions.
Darren earned an MBA with a Magna Cum Laude distinction from Babson College in Wellesley, MA and a Bachelor of Science in Electrical Engineering from Rensselaer Polytechnic Institute in Troy, NY.
Samuel Melkonian, President
Sam Melkonian has been involved in the Boston real estate market for the past five years. As soon as you meet him, you will recognize his engineering roots by his strong product knowledge, commitment to service, process orientation, hard work ethic and respect for all individuals.
Sam's creative thinking and "can do" attitude has made him one of the top producing brokers at his previous employer. He brings a degree in Computer Engineering and numerous years as a Sr. Project Manager for High Tech Firm. He has an extraordinary sense of customer needs, situation and potential! Through his experiences as a project manager, he has developed strong organizational, problem solving and personal skills which serve his clients and customers well.
Sam has assisted hundreds of buyers in making the best decisions with their financing needs through his adept counseling, analytic and people skills.
Sam currently lives in Needham, MA and is also fluent in Russian and Armenian.

Call us at 617-913-0603