Browse our Landscape Supply Center category under Home and Garden Stores directory for best landscaping accessories, services, equipment retailers, services providers located in Boston area. Create beautiful garden and lawn calling businesses from our list. They offer best prices, excellent services and professional advices.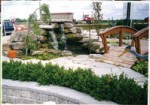 V & F Masonry Contractor Boston
V & F Boston Masonry Contractor is located in Newton MA: between Watertown, Brookline, Wellesley, Waltham and Needham. Let us complete all your projects to high standards and to established dates as to make your house look more enthralling. We can build or redesign your patio, flagstone walkway, stone wall, and foundation repair. We also install sump pumps and do basement waterproofing.