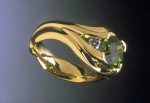 We specialize in engagement rings, wedding bands, and our enchanting collection of fine jewelry. Works are created in gold or platinum using a melange of modern, traditional, and ancient techniques.
We take great pride in our work and sign each individual piece.
Beautiful Things
Our special collection ranges from the elegantly simple to the delightfully conceptual! We carefully fashion each piece by hand using only the finest in expertly selected gems. Our jewelry is specifically designed to enhance the individuality of each gem we use. We sell all types of gemstones, including the rare and unusual. Our knowledge and collection of gemstones are quite extensive. We offer impeccable gems in innovative settings.
Chose from our selection of splendid pieces, or use your imagination to design your own signature piece. We can create a custom piece of personal jewelry for yourself or a loved one. Let us make your dream a reality!
Services
Besides designing and creating our superb collection, and creating custom pieces designed by you, Skylight Jewelers also offers other services. We are skilled and reliable at repairing all jewelry, and return your treasured pieces to you as good as new. We sell all types of the highest quality gemstones that have been expertly selected for our collection. Visit our studio for a polish and cleansing of your favorite jewelry. You can depend on Skylight for all of your jewelry needs, and you will find our prices to be fair and competitive.
Gift Ideas
Finding the perfect gift can be stressful! Whether you are searching for an anniversary gift or a fantastic surprise for your daughter's Sweet 16, Skylight has a vast collection of items in your price range. We know you will be presenting your loved one with a precious gift that will be cherished forever. We know we have a lot to choose from, if you can't decide, Skylight Jewelers offers gift certificates in any amount.
Come by and view our latest creations and watch us create at our studio! Skylight Jewelers is open Monday through Saturday 11AM to 7PM. Appointments can be scheduled for anytime, including after hours.

Call us at
617-426-0521
800-952-1538