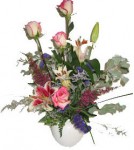 Russian Flora
Flowers to Russia - 'Russian Flora' gift and flower delivery network
Flowers to former Soviet Union
The goal of RussianFlora.com is to make every customer a satisfied customer
Send Flowers to Russia - Russian Florist delivers fresh bouquets and unique gifts directly to your loved ones. Russian flower shop provides 24-48 hrs flower delivery in Russia, Ukraine, Latvia, Lithuania, Estonia, Belarus, Kazakhstan, Moldova, Uzbekistan, Azerbaijan, Kyrgizstan, Armenia, Georgia, Tajikistan and Turkmenistan. RussianFlora.com is well established flower delivery service, distinguished by professional customer service, quality of flowers and gifts delivered and secure ordering process. More then 50% of our business comes from our customers' referrals.
Our History
In year 2001 the founder of 'Russian Flora', Mr. DF had long-distance relationship with a young lady in Moscow, Russia. Since thousands of miles separated Mr. DF from his loved-one, it was very hard for him to send birthday flowers, cakes and other various gifts for different occasions.He started to look for a service that could accommodate for his gift giving needs. Surprisingly, he found many web sites that provided such service. But he had soon discovered that many of them delivered low-quality flowers, while others were unreasonably expensive. Additionally, most local floral sites were located in Russia and did not provide the expected level of online security.With the above in mind Mr. DF had founded 'Russian Flora' , gift and flower delivery service not only in Moscow and Saint Petersburg, but all over former Soviet Union. He found local florists and gift delivery agents that provided delivery of reasonably priced quality products and connected them with the highest level of internet security and US-based customer service. The parent flower delivery company was named RussianFlora.com and now contains over 300 florists and gift agents in various cities and vicinities of former USSR. Additionally, RussianFlora.com provides delivery of any custom gifts per client request, including Custom Arrangements, Electronics, Gift Certificates, Personalized presents and many others.
Gifts
Gift Baskets
Gift Sets
Toys
Spirits
Champagne
Wine
Sweets

Cakes
Chocolates


Occasions

Anniversary
Any Occasion
Birthday
Christmas
Congratulations
Easter
For Dad
For Mom
Friendship
Get Well
Graduation
I'm Sorry
Just Because
Love and Romance
New Baby
Significant Day
Sympathy and Funeral
Thank You
Thinking of You
Valentines Day
Wedding

What makes RussianFlora.com unique ?
- We service all locations in the former USSR
- We offer wide variety of fresh flowers and gifts including: unique flower arrangements, fruit & chocolate baskets, spa gift sets, cakes, chocolates and custom gifts for any taste and budget.
-For any customer who is interested to receive high quality digital picture of delivery, we can offer this service for the additional payment of $9.99 in most serviced cities. The customer will receive the digital picture to the email address specified in the order form.
We accept Visa, MasterCard, American Express, Discover, Diners Club and JCB credit cards and offering online ordering with VeriSign.