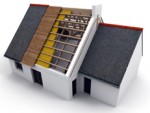 Massachusetts Roofers

We are a full service commercial & residential roofing solutions company. We have been serving the Massachusetts Merrimac Valley since 1988.
We have a great staff, and our installation teams are experienced with the labor intensive aspects of roofing. You can count on our skilled management teams to orchestrate your job with fine precision, and our sales staff is always friendly, informative and professional.

We install GAF/ELK high definition architectural shingles (Timberline 30), 90% of the time when working on residetial homes. We also install their Deck Armor underlayment and Cobra ridge vent systems.

We install Grace Ice and Water Shield as a substitute for the GAF/ELK Weatherwatch.

We find the The Grace ice and water shield a better product to prevent ice dams leaks from penetrating into the home.
Every installer and laborer is covered with workman compensation.
We also have a two million dollar umbrella policy.
Insurance information is presented to you without asking at time of agreement.

Added Value
We guarantee our work against leaks and defects for 15 years.
Call to speak with one of our consultants today. The call is free and there is no obligation.

Roofing Professionals
When hiring a roofing contractor it is important to hire a licensed roofer.

Our Professionalism Pledge
When we are on your property, whether repairing or replacing your roof, we want you to know, we care about your family, your property, your customers, and your reputation. For these we are responsible.