Construction Project Managers
The Construction category of the Construction and Contractors catalog - a comprehensive database upon Boston's and international construction industry, includes list of construction companies in Boston area, suppliers and manufacturers, builders and contractors, repair services, remodeling contractors, products related to construction industry and more. Use our catalog for the latest construction industry's news and information from experts.
Using the Construction category you would be able to find local contractors servicing Wrentham, MA and the Greater Boston area, advices and answers to your business questions, advices in remodeling and renovation projects. Our online construction resource is very useful and helpful for construction professionals and for homeowners.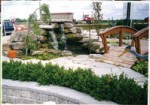 V & F Masonry Contractor Boston
V & F Boston Masonry Contractor is located in Newton MA: between Watertown, Brookline, Wellesley, Waltham and Needham. Let us complete all your projects to high standards and to established dates as to make your house look more enthralling. We can build or redesign your patio, flagstone walkway, stone wall, and foundation repair. We also install sump pumps and do basement waterproofing.