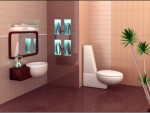 Needham Bathroom and Tile Design
provided to you by Bath & Tile Design Center Inc
Does your bathroom need improvement?
Bathroom renovation
is an important way to add value to your home, or simply improve your own living space — just a simple bathroom vanity or bathroom cabinet can turn ordinary to eyecatching!
Needham Bathroom and Tile Design offers you a huge selection of everything you need, such as attractive bathroom vanities, designer bathroom cabinets, and other bath furniture.
We carry all major brands of bath cabinets, and that's why we're sure you'll find the bath cabinet you're looking for.
We bring the best products and the lowest prices together for you!
If artistic accents are what you're looking for, you won't find a better selection of bathroom tile than at Needham Bathroom and Tile Design.
We offer a wide selection of porcelain tiles in Boston and glass mosaic tile, and even glass tile backsplash.
Our many tile options let you express your creativity, and make your bathroom a stand-out part of your overall home design. If you're looking for other artistic accents for your
bathroom furniture, our cabinet doors and cabinet knobs
will spark your creativity, and our
bathroom wall cabinets and modern vanities
will be sure to turn heads. Ask about our design ideas, and get inspired!
Our faucet selection can't be beat.
We carry bathroom faucets from name brands like Kohler, Delta, Franke, Danze, Grohe, and Toto. Faucets bring style and identity to your bathroom renovation, and
Needham Bathroom and Tile Design offers you the best in sink and shower faucets.
They provide the perfect complement to our bathroom cabinetry.
Our selection of sinks, tubs, and bathroom fixtures include name brands like Aquatic and Whirlpool — the brands you want to see!

If you are looking to bring a unique touch to your bathroom remodeling project, ask about our options for custom bathrooms. Our team of renovation specialists can customize our bathroom designs to fit your needs. Not only do we carry a world-class selection of name-brand bathroom accessories and shower accessories, but we also offer custom bathroom cabinets designed just for you and your home!
With our 12 years of experience as bathroom designers, and our state-of-the-art 6000 sq. ft. show room, coming to Needham Bathroom and Tile Design will make your shower and bath remodeling a joy, not a chore, and you'll get the personal attention of our specialists.
Our selection of expressive bathroom shower accessories, reliable toilets and sinks, name-brand faucets and fixtures, stylish bath furniture, custom bathroom cabinets, and
designer bathroom tile
in Boston help you turn your bathroom into the special part of your home you've been dreaming of.
The Needham Bathroom and Tile Design showroom is located in the community of Needham Heights, just a short drive from Newton, Brookline, West Roxbury, Wayland, Wellesley or Watertown.
We are proud to offer you the highest quality
tiling products
in Boston for your bathroom renovation at the lowest prices around.
So come in to our show room today and find out how we can help make your bathroom remodeling experience personal, state-of-the-art, and easier than you thought!