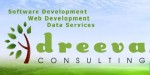 Dreeva Consulting Inc

Dreeva Consulting is a privately owned corporation and has been in business since 1999.

Dreeva Consulting delivers an optimum Application Development, Web Design and Development and Data Services solutions that will meet your needs and stay within your budget.

At Dreeva Consulting we develop systems and software that will allow your business to be highly dynamic, flexible and agressive in this high competitive and high performance business world.

Software development provides your business with high performance and future scalability which will allow a wide degree of competitiveness of your organization and future growth.

At Dreeva Consulting our experts not only focus on developing and building applications using cost and time efficient software components, but also enhance customer relations and increase revenue opportunities
Web Design and Development
The professional web design and web development services offered by Dreeva Consulting help companies adopt the web as a strategic tool.
Whether you are a small business or a large corporate, Dreeva Consulting can help you achieve a unique online presence to give cutting edge web design solutions to your business.

Data Services
As the world of business is becoming very dynamic and fast paced, the accessibility of accurate, detailed information is a necessity.
Whatever your need may be, temporary or long term, outsourcing your data entry to a data entry company is an alternative solution.