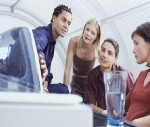 Adroit Networks, LLC
To meet the computer networking needs of the small business community.

As an IT provider organization, we remain on the leading edge of technology while recognizing that technology alone is not a solution. Small business technology has varying requirements. At Adroit Networks, LLC our success is measured by the success of each client that we support. Our focus is to understand each client's specific needs and tailor a complete solution for their business. Whether a small start-up comprised of two computers configured in a peer-to-peer network or a multi-site organization with enterprise level networking requirements, Adroit Networks, LLC is committed to providing and supporting the appropriate solution for your business.
COMPANY HISTORY
Adroit Networks, LLC was founded in 2001, and continues to focus primarily on the small business infrastructure, with areas of specialization in health care, business management and the financial industry. Adroit Networks, LLC headquarters is located in Tyngsboro, Massachusetts.


ADROIT NETWORKS, LLC provides a comprehensive array of information technology services to plan, implement and solve the computer networking needs of today's businesses. As a full service solutions provider we offer all of the services necessary to assist business managers in achieving operational success. Our core services include:
NETWORK/SYSTEM DESIGN
In many cases, business requirements dictate systems tailored to their operational environment. Adroit Networks, LLC will work with you to understand, and where necessary aid in defining those requirements and provide the solutions to position your organization for success.
NETWORK/SYSTEM IMPLEMENTATION
Once the system/infrastructure requirements have been identified, Adroit Networks, LLC will install and configure the physical network and/or systems identified.
NETWORK/SYSTEM SUPPORT
Services are available for on-site assistance, telephone support, remote connectivity support, network monitoring, and customer training. Please refer to SUPPORT for information on our full line of offerings.
NETWORK/SYSTEM SECURITY
Adroit Networks, LLC provides network security assessments to identify points of vulnerability, and will recommend and implement solutions to harden your infrastructure through use of firewall /VPN solutions, anti-virus protection and intrusion detection systems (IDS). Consulting services are available for compliance with HIPPA, and other regulatory requirements.
WEBSITE DESIGN/SUPPORT
Adroit Networks, LLC offers customized website solutions to, based on your specifications, depict the image required to maximize interest from your target market. We can provide ongoing website support or self administration tools.
CONSULTING SERVICES
Adroit Networks, LLC provides a broad range of IT consulting services to serve all the computer and networking needs of the small business. From start-up to maintaining a scalable IT infrastructure we can help your business achieve operational objectives.