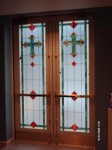 SGO Designer Glass
SGO Designer Glass provides
an extensive collection of thick, laminated, slumped, textured, etched, carved, painted, cut stained & leaded, fused and many other types of glass to meet any design need.
SGO Designer Glass offers a wide range of decorative glass and related products for any application. We provide installation for windows, doors, skylights, counter tops, back splashes, shower enclosures, and more.
Our decorative glass suits any room and any space - home, office, place of worship, schools and many, many others.
Whether it is a commercial or residential project, large or small scale let us partner with you to exceed your expectations.
We guarantee your finding the product that best meets your requirements, ideas and needs, and what is important - fits your budget. The first step we suggest you is exploring our online showroom. The gallery pages contain hundreds of ideas on past designs and where decorative glass can be used in your home or office. Actually, the applications are unlimited… Improve half-round or odd-shaped window, make your bathroom window or entryway privacy-securing, protect your furniture and carpets from UV light with the help of our window-glass, beautify your kitchen and much more.

Contact us now to discuss your project.