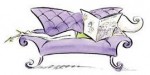 Bags to Riches
Bags To Riches is a small Boutique in Peabody, Massachusetts which was established in 1992.
Bags To Riches is the place to shop for the hottest trends in fine jewelry, watches, fun fashion jewelry and authentic designer handbags and sunglasses.
We offer tremendous savings everyday on every item.
We hope you will find the perfect item for yourself or a gift for that special someone.
Call for an appointment to visit our showroom to see our selection of top quality merchandise at affordable prices.
Indulge your inner shopper with some of the hottest trends.
Book your Party now! Host a party at our showroom and receive free merchandise.

May God Bless You!