Welcome to the Accounting and Auditing section for the accounting and auditing Information in the Accounting & Finance directory of the Boston Catalog web site. Designed primary as an informational source, it provides links to numerous sites of interest to accounting professionals, bookkeepers, auditing clerks, regular users, students and beginners in the Accounting and Auditing world in Lexington, MA and Boston area.
   Handling of all financial transactions and recordkeeping, posting debits and credits, producing of financial statements, preparing reports and summaries, compiling data from cashiers, verifying and balancing receipts, sending cash, checks, or other forms of payment to the bank, preparing invoices and keeping track of overdue accounts and many more. You would be able to find information  on the companies web sites using our extensive Accounting and Auditing directory.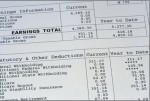 Solex Payroll Systems
Solex Payroll Systems provides a suite of business process outsourcing tools, eliminating the hassles of payroll, record keeping, tax-filing, and retaining good employees. Founded by CPAs with over 50 years of experience and powered by Payroll Associates, a national leader in payroll software, brings online platforms like Solex Payroll Systems to your business!